July 15, 2015: BRAMPTON— The 100 per cent averages on their report cards make it clear Hardeep Begda and Purav Shah possess the intellectual faculties to go far, but the Brampton teenagers also have the wisdom to know the lessons learned achieving those impressive marks are more important than the grades.
Their academic excellence place Begda and Shah at the front of the Peel District School Board's 2015 high school graduating class and tops among the board's Ontario Scholars.
Grade 12 students with 80 per cent or higher in six subjects are named Ontario Scholars. This year, the board has 4,896 Ontario Scholars.
Only Begda, Shah and two Mississauga high school grads managed to earn perfect 100 per cent averages.
The remarkable achievement isn't lost on either Begda or Shah, who were both surprised and elated to get news of their academic standings, but they have a levelheaded perspective on the accomplishment.
"The work ethic that I think I've built over Grade 12 is my biggest achievement, more so than may be the 100 per cent thing," Shah revealed. "I believe that the work ethic that I've built in Grade 12 and in prior years has really helped me in other aspects of life."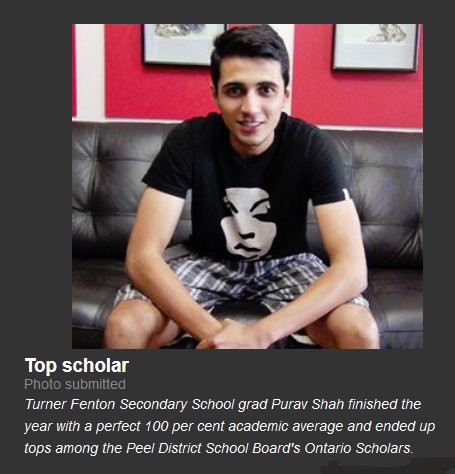 Shah graduated from the academically demanding International Baccalaureate (IB) program at Turner Fenton Secondary School.
For the last seven years, at least one student in that program has managed to complete their studies with a 100 per cent average and earn a top spot on the board's list of Ontario Scholars.
Begda is a Central Peel Secondary School graduate who humbly points out no one is perfect – even after receiving his report card marks.
His extraordinary academic results were the product of a very ordinary high school goal.
"I just wanted to get into a good university and the program of my dreams," the 18-year-old said.
His effort in the classroom comes from a desire to live without regrets.
"I never want to look back at my life a few years down the road and say 'this is what could have been if I had put 100 per cent of my effort into my work,' because depending on the circumstances it's incredibly difficult to undo what has been done," he remarked.
Both young men spent many hours outside the classroom volunteering.
"You want to know what's out there in the world and volunteering is a really good way to do that," said Shah, who volunteered in a hospital oncology ward and gift shop and also donated time as a swim instructor.
Begda's non-academic agenda included work as a chiropractic office assistant, starting a non-profit organization to help provide educational opportunities for others, and volunteering in the community.
Next year he is attending the University of Waterloo for the accounting and financial management coop program and considering a number of career options, including a profession in law.
Shah is headed for the biomedical engineering program at the University of Waterloo. He hasn't set anything in stone, but has been leaning towards a career in medicine
Comments
comments